You've found America's #1 Handwriting Expert - Bart Baggett. As seen on CNN's Larry King Live, Court TV, VH1, and Fox News Channel. Court Qualified. Credible. Ethical.
---
For the Media:
Press Information for Print, Radio, and TV
To Book Bart Baggett as a guest,
Call 310-614-6593 available Los Angeles and nationwide.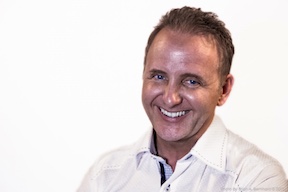 Go here to book a radio interview and get pre-written host questions
Book Bart Baggett now for your radio or TV Show.
One of America's best on-air talents.
Press Information for Print, Radio, and TV
To Book Bart Baggett as a guest,
Call 310-779-7224 or 310-614-6593
available Los Angeles and nationwide.

Bart Baggett is Nation's Leading Handwriting Expert as seen on national and international TV news networks. For stories including forgery, handwriting, and criminal tendencies... Mr. Baggett is the media's first choice.

Bart has commented on the nation's leading criminal trials, forgery cases, and unsolved mysteries. He has appeared on over
1,500 radio / TV shows (CNN, Court TV, CNBC, etc). Mr. Baggett is the most TV and Media experienced handwriting expert in the world.
Why call anyone else and risk your segment or forensic case
being legally wrong, technically sloppy, or boring?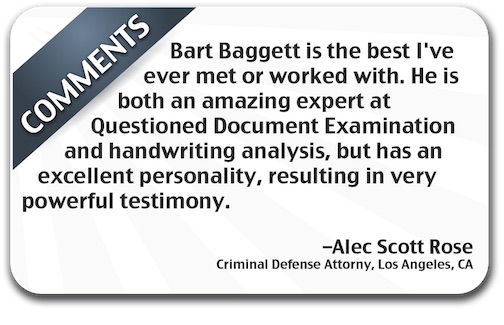 Call Today: 1-323-544-9277
10am-6pm PST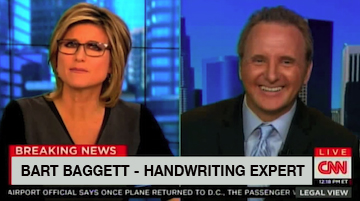 Forgery Detection is a complicated and skilled profession which takes years of training.
Bart Baggett is qualified to help you solve your case. We work with attorneys, individuals, and corporations in the US and Canada.
Shall you call our office to discuss your case today?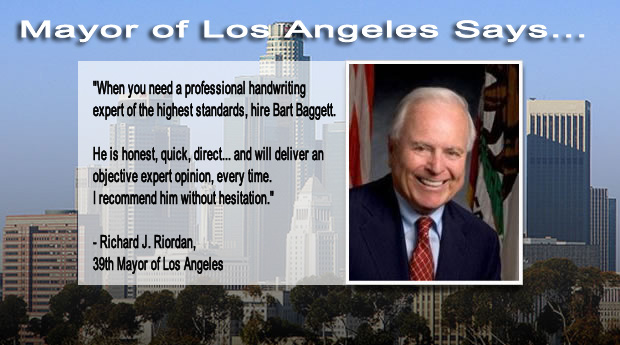 Attorneys Recommend Bart
"Bart Baggett is the best expert witness I've ever worked with. What's more, he successfully testified for my client via telephone in a live trial here in Alaska. He even "consulted with me" on how best to cross-examine the defense's document examiner. We won the trial and I recommend him whole heartedly."

~ Jim Fry, Attorney
Anchorage, Alaska

Baggett Helps Client Recover $6,600
"Bart,

Your testimony and support during this lawsuit by my x-girlfriend has been nothing short of amazing. The judge awarded me full amount of the $6,600 and finally I can sleep at night."

~ Mike Juaraz,
East Los Angeles
Helped Client Avoid 15 Years in Prison
"Thanks you soooooo much for going above and beyond. Your testimony was the key the criminal lawsuit against me. The jury found me NOT GUILTY on all counts. They obviously believed you instead of that Police document examiner the D.A. hired.
I was so impressed you handled that District Attorney with such professionalism... he knew you were right, but couldn't make you look bad on the witness stand.

I have my life back. Thank you Mr. Baggett!"

~ Amir Dawood, Attorney
San Bernadino, CA

Attorney Downloads

Download Bart's Current Rate Sheet

Bart's CV/ curriculum vitae

Court List (Available upon request)

Would you like to speak to live person before you submit your case?
Just call Bart's office at 323-544-9277.